It's perplexing that a writer who writes for the glory of God could lack something to write about. Our God is the Creator of the universe, and we don't even have to look beyond our own bodies to find inspiration that displays His glory. Yet, for all of us, seasons of writer's block, a lack of inspiration, or creative stagnancy are at least an occasional reality. 
4 Common Causes of Writer's Block in the Christian Writer
Every writer's experience with writer's block is unique. Some writers have no idea what to write and stare at a blank page, no matter how diligently they try to fill it. Others continue to write, but feel creatively empty, lost, floundering. Writer's block can also be a temporary issue in the middle of a writing project—you just get stumped and can't seem to complete the piece in a satisfactory way. 
Whatever writer's block looks like for you, the causes of it seem to be common to Christian writers. Let's look at a few. 
Intimidated By the Power of Words
Sometimes the weight of responsibility that comes with representing Christ through the power of words can feel heavy. This is understandable considering Bible verses like these:
Proverbs 18:21 NKJV
"Death and life are in the power of the tongue, and those who love it will eat its fruit."
Matthew 12:36-37 ESV
"I tell you, on the day of judgment people will give account for every careless word they speak, for by your words you will be justified, and by your words you will be condemned."
Clearly, there's wisdom in taking our time before sharing a piece of writing, but sometimes our hesitation, procrastination, or resistance to writing is a sign of a deeper issue. Keep reading.
Imposter Syndrome
All writers struggle with a sense of inadequacy, incompetency, or fear of failure at some point. It's a tremendous encouragement to know that even heroes of our faith experienced this, too. 
When God called Moses to lead His people out of Egypt, Moses was convinced God had chosen the wrong man. There were legitimate reasons why Moses shouldn't be given such a great responsibility. He had real weaknesses. (See Exodus 3-4.)
The apostle Paul struggled with doubt and a sense of inadequacy. He obediently lived according to God's call on his life, but he was "timid and trembling" as he did it (1 Corinthians 2:3). 
What both of these men learned is that: 
Our weaknesses are not disqualifications to God. 
God intentionally chooses people who don't seem like the natural choice so that He gets the glory (1 Corinthians 1:25-30). 
God is faithful—when He calls us to do something, He equips us with everything we need to carry out His purpose (1 Peter 4:11). 
For some writers, knowing these truths is enough to cure their writer's block. But let's look at two more causes of creative stagnancy.
A Lack of Conviction
Another reason we might struggle with writer's block is that we lack confidence in our words because we're not writing from a place of conviction. We may know our words are true and right, but we don't really know why. Our words are coming more from our heads than our hearts. 
The Well is Dry
The most common complaint of writer's block sufferers is that their words are the feeble scrapings from the bottom of the barrel—crumbs and crusts instead of fresh fruit. The well of inspiration has run dry. 
The good news is that there's a solution for this problem. It can be fixed and it can be prevented.
20+ Practical Ways to Overcome Writer's Block Once & For All
I created a new resource to share with you what I learned in my own search for a permanent cure for writer's block. Not surprisingly, I found what I was looking for in the pages of God's Word.
Since discovering the truths inside this book, writer's block has been nothing more than a distant memory for me. Today, I struggle with a different problem—I'm overwhelmed by writing inspiration!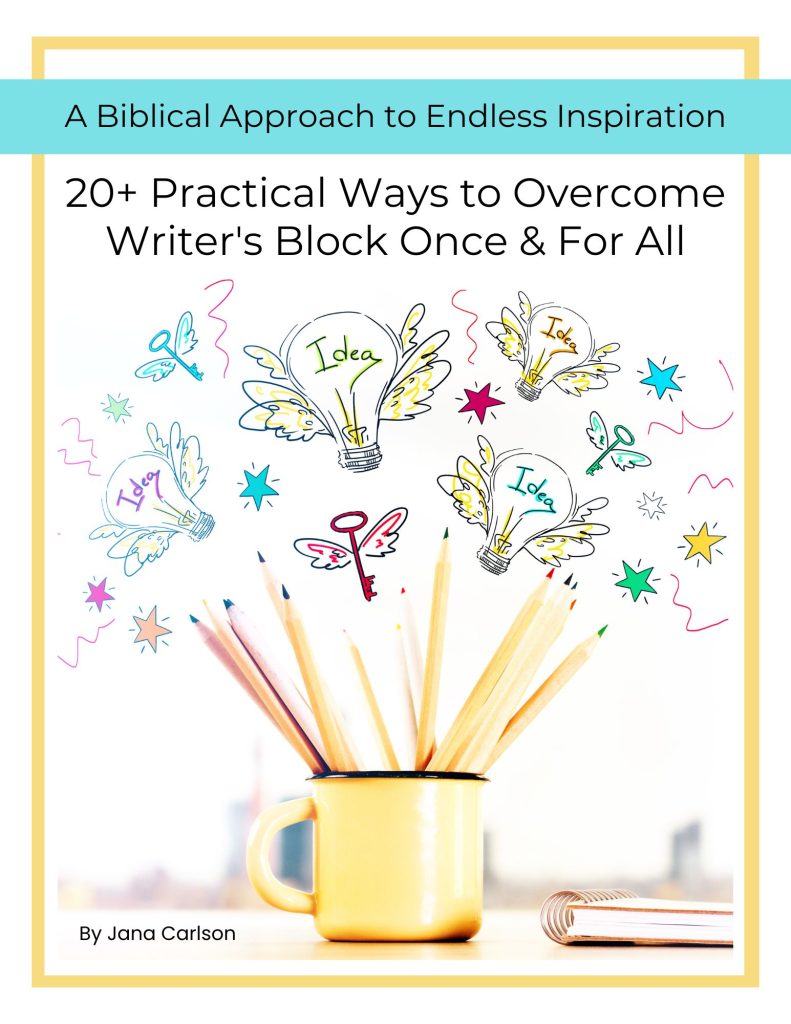 In this 12-page resource, you'll discover:
Common causes of writer's block in the Christian writer
Where our words come from
3 biblical sources of inspiration
You'll also find more than 20 practical ways to stay inspired forever and get started with 20 unique writing prompts.
Ready to conquer writer's block?
Sign up for updates from my writing Substack—Wield The Word—to receive this free download in your inbox right now!